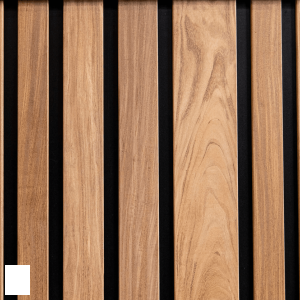 Afrormosia
Pericopsis elata
Sometimes called assamela, mohole, afroteak or kokrodua
The advantages of Afrormosia
Afrormosia is an excellent replacement for teak
It has a fine texture with a uniform pattern
Stability and durability: perfect for wall cladding
Replacement for Teak
Afrormosia has many qualities of teak (Tectona Grandis) and has therefore been used for years as a replacement for teak. The grain, color, texture and durability are almost the same.
Considering it is an African wood species, the name Afroteak is sometimes also used.
The wood type is not as oily as teak and is therefore better suited for making furniture. For a tropical hardwood species it is easy to use and finish well.
The chance of cracks, splintering is very small.
Wood with a fine texture
The hard afrormosia has a uniform, but fine texture. It is known for its straight grain, although some cross-wire grain occurs. Because of this fine texture and its stability it is easy to work in the workshop.
Subtle coloring
Afrormosia is known for its medium brown color. Although it may be yellow or orange when it has been sawn, it quickly darkens. There is also some chance of blue spots.
It is an excellent durable wood with a high gloss after finishing, but it can rust ferrous metals.
The price of Afrormosia
Afrormosia occurs in the CITES Appendix I, which means that there is a risk of extinction. Always search for a certified source such as Houthandel Paulussen.
Very few hardwood traders take stock in afrormosia, with us it is even big.
We even have the rarest dimensions.
Are you interested in the price of Afrormosia? Request a quotation without obligation.
Main use of Afrormosia
Wall cladding
Terrace / decking
Garden gates
Windows and doors
Interior, especially furniture and floors